Zero Entry Pool Builds and Spa Construction for Jupiter Residents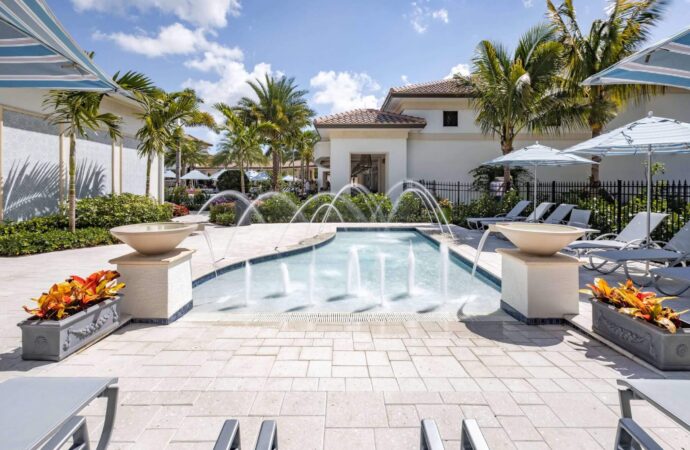 Because of their depth, swimming pools can be difficult to access, and if we also consider the stairs and additional features that are usually installed at the edges or entry, you will notice that it isn't an easy task for everyone, especially disabled people. Also, many designs incorporate stairs and other elements around the edges, which is why in most cases, how accessible they are can be quite questionable. This is why our company SoFlo Pool and Spa Builders of Jupiter, encourages property owners to consider zero entry pools and spas. 
These pools are easy to access and can save you both time and effort. They are also easier to maintain and offer more comfort than traditional swimming pools.
If you are going for them, rest assured that our team will help you to build this beautiful and comfortable pool on your commercial or residential property. We can also transform existing designs into zero entry pools if required and will bring the main benefits to the space.
When you let us work for you in the zero entry pool, you don't need to limit yourself when choosing different features and elements. You will enjoy all the benefits these pools offer to your home or business, regardless of your location. You can relax and go at your own pace by entering the pool without having to climb or descend stairs.
It's easy to grasp the concept of zero entry pools and spas since it is about making an entrance that is quite similar to the one on a beach or river—not entirely with the latter, as it can come with stones and some obstacles.
They are very popular as they slowly descend, then turn to water, becoming deeper. You can either swim to deeper areas or just stay as close as possible to the tiles so you can sit and enjoy the moment. This is a great choice for residential properties and commercial ones equally.
You can invite your patients to come to your clinic for physiotherapy without any extra effort if you decide to aim for the feature, or maybe bring some special service to the property for everyone who visits. Or you can make it available for your guests and clients so that they can have fun. 
Access to your pool can be made easier for disabled persons. It is inclusive and will assist you regardless of your limitations.
Both residential and commercial property owners can reap the benefits of a pool. It makes your life easier and safer, even if you don't have any special guests and just decide to go for the simple and most comfortable option.
You Have Customization Freedom
You can build pools with vinyl, gunite, fiberglass, or any other material that you've seen in other pools and are available in our company. 
We understand that some property owners may prefer specific materials. However, we can help you make sure that you have all the options since there are many zero entry types and designs that could be more suitable based on what you want instead of using the material you think is the best. They can be built with many materials to match your vision and create the design you desire.
It is possible to use concrete and regular tiles, but you will want to consider the long-term maintenance and what you should do for this type of pool if it becomes expensive due to the materials you decide to use. You can customize your pool with tiles or features that make it stand out. It all comes down to what you're trying to get in terms of aesthetics, affordability, and durability.
Our contractors at SoFlo Pool and Spa Builders of Jupiter are confident in their abilities. We are proud to use high-quality materials and have made significant investments in expanding our services. Our builders are qualified to handle all tasks and pool projects in your hands, so rest assured we will be there supporting you at every step.
We will be happy to help you choose the best option and provide the best materials and designs for zero entry pools for residential and commercial properties.
What Are The Benefits Of Having A Zero Entry Pool?
It provides comfort and accessibility in every aspect, as we've already mentioned, and these are benefits that aren't only for disabled people but just for anyone who decides to use the pool and have a good time.
Customers, guests, and people with disabilities will, however, appreciate the fact that there are no difficulties when they decide to use your feature. This will help prevent accidents and make it easier for all of them while using your installations.
You can use a zero entry pool wherever you are. You don't need to worry about the typical structure as the pool is safe, independent, and accessible, so you can have some fun and bring happiness to others.
To access the pool, you don't need to use lifts. This is a problem for hotel staff and commercial property owners. Although it is not difficult, it is important to let them be independent and have fun so that they don't feel you aren't being inclusive.
Safety is important as it reduces the risk of accidents. It also provides safe areas for edges, transitions, and other activities within the pool.
There are many benefits depending on the design and construction of your pool. While some people are more focused on the accessibility of the pool, others are more interested in installing certain amenities and features. It can be difficult, but we are here to help.
Get Your Zero Entry Pool Today!
We can help you make your dream a reality if you are up to the challenge. The pool will be the focal point of your property, and we will make sure it lasts and brings all the necessary benefits to your space.
Our team will provide you with all options, designs, materials, and other information to help you make informed decisions that are based on your goals and needs.
Below is our list of additional services: