Pool Remodeling and Renovation Services for Jupiter Residents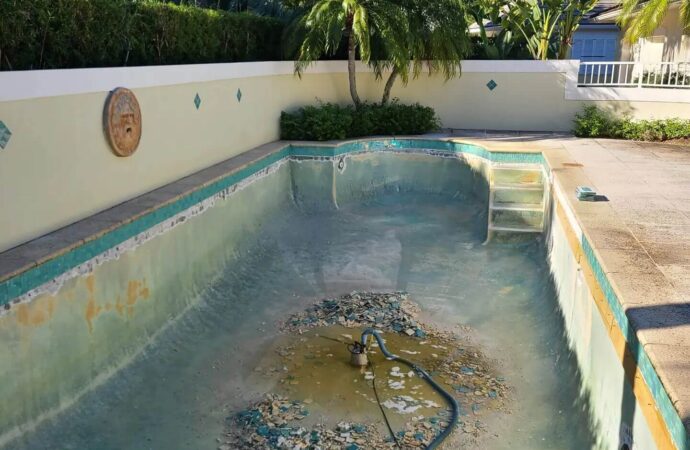 Having a pool that looks stunning and lasts for years is the goal of any property owner who decides to take on this challenge and start working around installing this feature. However, at some point, remodeling or renovations and needed and what you need to worry about is: how often or how soon they are needed after the construction of your pool. If you are going for pool remodeling and renovations not long after a repair or after your pool was built, you will need to worry about finding reliable professionals who can finally promise you a result that won't make you continuously invest more money and resources in getting the final design you want in your space. 
This is an important step in your life, and we would love to help you so there's no need to worry about quality and durability any longer as our team at SoFlo Pool and Spa Builders of Jupiter makes sure you get the perfect renovations that will pay off every penny of your investment.
There are many things that could go wrong with your pool. Some pool owners are unhappy with the design they have and wish to make changes but end up regretting it due to poor services delivered by some "professionals." Others may be frustrated by frequent repairs or needing more maintenance.
If you are stuck in need of pool renovations or remodeling, no matter what your reason is, it is important to find skilled contractors and professionals who specialize in this field, and we are right here to be the people you need and are looking for it.
If you choose to work with only a few professionals and spend less money on your pool than you should, you'll end up spending more time and money in the long run. You won't get the results you want after having it for many years and then finally renovating it. 
SoFlo Pool and Spa Builders of Jupiter team are here to help. We will ensure that your pool is done by only the best professionals and that you get the exact result you've been looking for or even a better one.
If you think hard about it, it's not difficult to modify your pool. This is where the problem lies when you have to plan and design the entire process.
Most people want to resurface the pool deck. It is the focal point of the space and where most people spend their free time apart from the pool and how they spend time in the water. It can make a huge difference to the quality of the pool, whether you are resurfacing it or not. 
While you can still work in your pool if necessary to replace tiles or make other changes, resurfacing is the most common option when it comes to renovations.
There are many options, and you'll need to think about different ways when remodeling. Your choices might be less biased than you anticipated and if you need some recommendations, we always suggest focusing on what would bring a bigger impact for you and those using the space.
It is important to take the time to read all details. You can select the surface you like, add amenities, or make minor changes. You don't have to worry about what other people think or expect from the renovations. Our team will support you as you focus on the goals you set for the project.
Remodeling commercial pools are more difficult whatsoever. You need to think about the style and design of your commercial property to ensure that your pool appeals both to clients and guests and not only you. 
We will assist you in deciding what you want and setting expectations. Our complete support means that you won't have to do everything alone but rather have experts supporting you at every step.
Here's How We Support You
You're not only getting experts who will help you with the heavy lifting and the heavy work. You can choose the best design for you and your vision, but we will help you navigate the process and present all options, so you know you're making the best choice for your space.
Although it sounds overwhelming, it is not. We'll take care of everything as we'll gather all the necessary information, assess the space, and determine what you need. We'll then work with you to make it a reality. This will cut down on time it takes to remodel and make the project a success.
We remind you that even though you have limited time, it is important to take more time to think about your ideas and preferences about the new design, organize your thoughts, and discuss the options available.
We will ensure that you are happy with every element, amenity, and decision you make during this project. We know there is much to do, so we want you to have less to worry about.
We will also handle all aspects of remodeling and renovations so that they can be completed in record time.
What Is The Average Remodeling Cost?
It all depends on what type of remodeling or renovations you are looking to do, how you plan to do it, and the size, dimensions, designs, and other details that will be involved so we can add these to the final estimate and cost.
Prices can go up if we concentrate on pool deck resurfacing or changing heavy elements in the space. This is often the costliest way to remodel your pool.
The most expensive option is to resurface with bricks or concrete pavers. However, other options, such as eurotile, are very affordable and can produce stunning results.
We can help you make a budget and will work with you to ensure you stick to it. You don't have to add or reduce the amount you spend in the short and long run if this is what you're trying to prevent.
Our team is available to assist you with adding additional amenities to your pool, so everyone can enjoy it. All modifications must be discussed before or during construction whatsoever. We will gladly answer any questions you may have and ensure that your pool remodeling project is within your budget.
Below is our list of additional services: