Family Recreational Pool Builds and Spa Construction for Jupiter Residents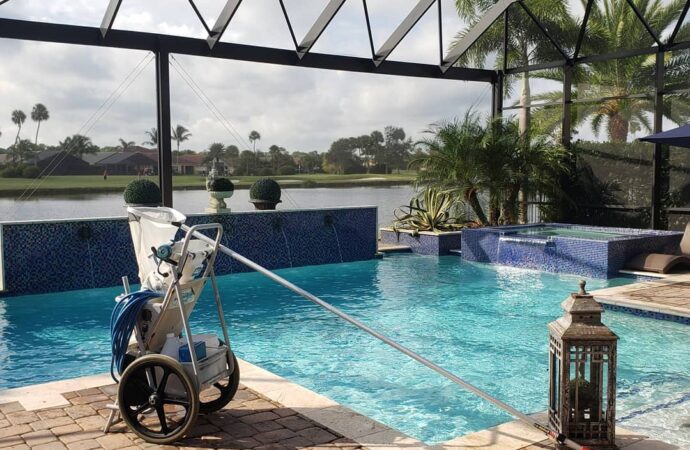 SoFlo Pool and Spa Builders of Jupiter team love to help families create new spaces or features in their backyards. We also love to bring entertainment and fun with a feature that offers it all. You can have more fun with your family and friends and not have to travel to other places or spend as much money on certain elements. Our team has the experience, design, and ability to create the best results for your family recreational pool and spa, so allow us to work on your project while we handle all these steps:
Design.

Planning.

Polishing.

Construction.

The final result can be viewed.

Providing services post-construction in case you need us to handle any issues.
Family recreational pools shouldn't be limited to the pool and its basic structure. Although you can still enjoy the basic features of the pool, it can become a bit boring once some time has passed on when you're trying to add more fun to the entire feature. You may need additional elements to encourage exercise and enjoyment, but you must do this correctly to avoid any interference with other elements or causing problems long-term that will also cost you more money in terms of maintenance and how you deal with the entire project.
What amenities and features can you add to your pool in order to make it a memorable experience? This is the first question that we answer, and if you don't have a clear idea of some options, we list some:
Waterfalls

Slides.

Include the effect of waves in the pools.

Add specific features around the edges to hold onto them and play with balls and other items.
Your pool will provide more than a relaxing experience when you decide to work with us on your family project. Pool contractors with more than 30 years of experience can design a pool that is unique to your needs, and we happen to have an entire team full of qualified and skilled builders.
Before we start designing the actual product, we will show you the options. We will make sure you're aware of all the elements, and we will make sure you know what's best for you around your process.
Many families have a waterfall or slide installed in their swimming pool. This creates an outdoor space that everyone can enjoy regardless of how deep or high the pool is. You have the option to add features to your pool design or not, but you don't have to follow others' lead.
Be realistic about the dimensions of your pool and how it will look for you and your family.
What Are The Types of Family Pools You Can Install?
The final design or premise around it will depend on the size most of the time, so you get to have several people and choose a family recreational pool based on how many people will use it:
The pool can accommodate over six people and will be one of the most comfortable options.
The pool should measure approximately 18 feet by 38 inches. Consider how many people will be using the pool and what additional amenities you would like to add. This will help you design your pool to suit the desired uses.
They will usually measure 16×32 feet. These are great for small properties and those who don't need all the space. You can fit six people in them, but we wouldn't recommend it for more users.
They can also be measured between 14 and 25 feet. These are ideal for up to four people, can provide basic needs, and are comfortable in spaces with limited space.
If you are careful about how your pool functions and what your family uses it for, these pools can prove to be extremely useful. For athletes or those looking to keep fit, a lap pool is a great choice.
You must have enough space to practice and train, and the pool must meet your needs. You can always add more amenities.
We Introduce You to All the Materials & Options
Each pool is unique when it comes to what it is made with different materials. Different tools are also used by pool builders, and depending on your needs, you can create different styles and designs based on the specific pool you choose for your space.
There are many options available for pool design when it comes to recreational ones, including using vinyl, fiberglass, and gunite as the main materials. These strong options offer excellent results at a very affordable price. Therefore, the pool's overall cost is lower and more affordable.
Gunite is the best option due to its versatility and the many forms it can take. Concrete or sand can be used to create a well-defined frame, and any of these will allow you to create a unique and distinctive pool environment.
This is a great option if you want to add recreational features like rocks, waterfalls, and slides. This allows us to easily modify the product without having to do much work to make sure that the materials fit properly.
Fiberglass is an excellent choice for a pool in general, and it is more about not being able to choose wrong when you go for it. You can heat the water with it to make it a spa and ensure the surface remains stable. You can add fiber optic lights to your space to set the mood and create an atmosphere.
Vinyl is both the most durable and the most cost-effective option. Vinyl can be made flexible, which reduces the need for repairs and cracks later when you work on your pool.
Free Estimate for Your Pool
You can get a free estimate from our team for your family recreation pool and spa if you call or email us. You can also fill out our contact form and schedule an assessment so we can provide an estimate that is based on your needs, the property's condition, and the amount of work involved in all this.
Contact us today and get started!
Below is our list of additional services: