Architectural Pool Builds and Spa Construction for Jupiter Residents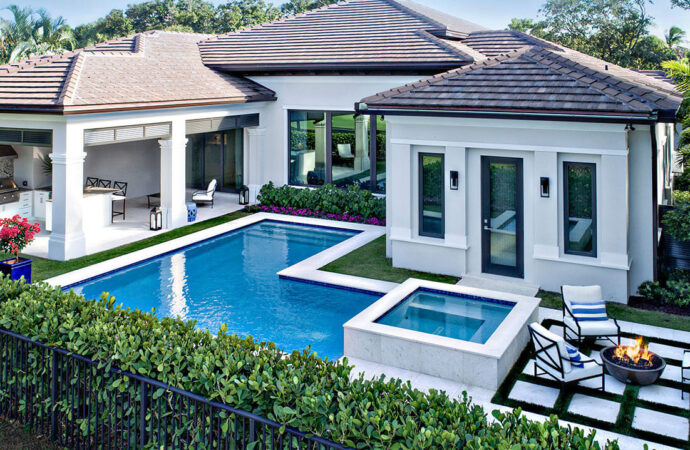 Both residential and commercial property owners enjoy architectural pools and spas because of their beauty and the fact they can last for many years while needing very little maintenance. When you think about the materials used to build most of them, repairs aren't needed. They leave behind a functional and stunning design that can be appreciated by any user and, even more, the owners. However, achieving such a result requires qualified people who understand how much work it takes to build this type of pool. These pools have been constructed by SoFlo Pool and Spa Builders of Jupiter for more than a decade. 
We are experts in creating beautiful, lasting pools and want you to have the best experience possible when installing them. We use only the best materials so that you can be confident in the final product, and rest assured, we will keep you involved in every step of the process, so you get the most out of your investment.
Designed for both residential and commercial use, architectural pools are versatile. Traditional designs can make your pool too dull or difficult to use, or maybe they just make people tired of the space, as the premise doesn't really stick to regular use but is rather more of a trending design that people usually get tired of.
Although it may look great, people dislike it when it becomes too overwhelming or after they've been there many times. Architectural pools can help you get the opposite reaction if you work carefully on the design and focus on one aspect: minimalism.
If you are looking for an architectural style that everyone loves, it's hard to mess it up unless you try to end for more than what it should have.
The pool's structure and design are often more complex than regular pools, which typically have concrete and laps. You will have to worry about the structure in terms of its geometrical appearance and how the architectural feature is achieved. You can usually tell when an architect pool is in place; if not, a single picture will suffice for you to notice.
You have many options for designing an architectural pool. This design is ideal for outdoor spaces; even if you want it indoors, our team can comply with the task. 
You can choose from rectangular or square pools for architectural pools. Many homeowners prefer geometric pool designs, and these are usually the premise behind having the architectural style in your space. Commercial property owners also need a unique design, so we're up for the challenge if you need some customization. This type is ideal if you want to achieve something different and if you want to aim for more, we are here to help you in every step.
Why Should You Get an Architectural Pool & Spa?
Suppose you are worried about your pool creating disturbances in your outdoor space. In that case, this option is for you, or maybe you want a feature that isn't as independent but brings harmony to the entire space regardless of the specific design you have for your landscape.
Landscape and architectural design can help you integrate your pool into your outdoor living spaces. It will not feel like an extra feature. The pool design will blend into the surrounding environment if it is thoughtful and meets your preferences.
Qualified builders can help you make it happen. They can help you navigate the process and make sure your pool looks beautiful. If you have ever had a pool remodel or replacement, it is important to plan.
There are two options when it comes to architectural pools: a minimalist design or a striking one. Or maybe both—so that would be more like three options. Or, you can choose a straighter and more geometric design. It all depends on your goals and how you work together with our team to achieve them.
Modern swimming pools come in many styles. You can remodel your entire area or add features to your existing pool depending on your goals so you can add value to your property while using this feature and bringing a unique and stunning design to your home or business.
Making Your Architectural Pool Real with Our Team
It's better to take your time, then look at the information about your pool's design if you want this project to be a success. 
You will feel overwhelmed and won't have enough time to consider all options if the process is rushed. It can be difficult to select the most important, meaningful, and cost-effective features and materials for your pool construction, but this is one of the reasons why we are here.
Next, you will need to give details about all possible design options and the elements that could be used in your architectural pool, including the color and texture you want. Our team can assist you in creating a list and bringing the different alternatives to simplify the selection process.
Now, in designing the architectural pool, we want to ensure you understand that minimalism does not have to be boring. There are guidelines that can be applied to an architectural pool.
These guidelines will help you achieve the desired result while keeping it within your limits. This refers to making the pool's design and structures the focal point of the entire structure.
Focusing on the design alone and not how the user will interpret it can lead to overwhelmingly complex design. This will affect the final result as well as your ability to provide the best service to your clients and guests. Take your time and ask for our assistance.
It is important not to be afraid of asking for help. Our team is here to assist you in every step, and we can provide you with guidelines and principles to design architectural pools. The pool environment should be considered in all aspects: minimalism, geometry, and harmony. After assessing your property, wait for us to provide a customized quote.
Below is our list of additional services: