Commercial Pool Build Services for Jupiter Homes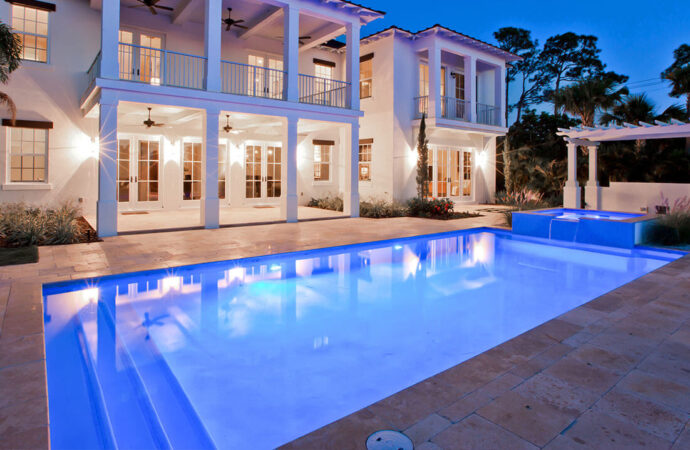 SoFlo Pool and Spa Builders of Jupiter is a company that is proud to be among the few businesses that can provide all support and assistance for your commercial pool builds and add this stunning feature to your property. Once we have finished your project and worked within the design that you and others love, we will make sure everyone who uses it in the future is satisfied. We ensure your guests and clients are satisfied and increase your business opportunities, so you don't have to lose with this project but rather bring benefits thanks to how this feature can work in your space.
We can help you understand the trends and styles of commercial pool builds for your business or community and what people expect to see when they want to use a commercial pool facility. If you are having trouble finding the right design that will last, this will save you time, and we will be there to make sure everything is perfect.
It is our job to gather all information and introduce you to different commercial pools so you can make a decision or have some inspiration for a custom design. We will help you choose the right one for your problem, meet your needs, and suit your expectations. But we will also think about your clients and guests so that they feel attracted to it and have a great time.
You will need to find experienced and qualified builders in order to understand the current trends and select the right building style for your neighborhood. There are many types of pools that can be used in different areas. You need to consider what other people would like when choosing colors, textures, or materials. Our team can help you design the pool of your dreams, even if you already have an idea, and we are the exact professionals you need for all your projects.
Building commercial pools can be difficult due to changing trends. It doesn't matter if your pool was built years ago; the idea is to ensure it continues to look like new and keeps attracting customers even with some minimal changes or the original structure since it was designed and built.
If your pool isn't planned well, it will quickly look and feel old. This is something you want to avoid at all costs, and we will help you make sure it doesn't happen.
The right professionals are needed to help you make the right choices and guide you. We are here to help, and rest assured you can ask all questions right away.
Why Are Commercial Pools So Difficult to Build or Work with?
It would be simple to get into the details immediately, but if you want to understand this, it is better to be simple: They vary depending on who owns the pool and also the people who use it, so it isn't about a simple project that is customized based on what you like, but you also need to think about your guests and clients.
These projects can be very time-consuming. It is important to be able to make informed decisions and plan for your future. You must consider all aspects of the design, as well as any maintenance or repairs that may be required later. It is important to consider both the short- and long-term. This means that you should not choose one or the other but instead keep all aspects in consideration.
Commercial pools are more flexible than residential pools in the aspect that you can find more options in terms of types and styles. However, you can't simply choose the pool you like and build it to your specifications. We will need to ensure that we cover all details and that you understand the consequences of your actions on the final outcome.
The pool's size is not usually an issue, except for some very special projects. However, you want to get the best out of your pool. It is important to consider what you can afford to spend on additional features and sizes.
Because we work with both small- and large-scale projects, we can handle small commercial pool-build jobs, so you are comfortable with our professionals and get all the help you need. We remind you, however, that not all pools fit in the available space, and you will have to be open to some recommendations.
We are often contacted by commercial property owners to help them with their pool design ideas. However, we also offer assistance when they are not able to create a plan or don't know what they want. These are both common situations, and we can help you no matter what.
We will work closely together to create a plan for your commercial swimming pool. It will make sure that all aspects of the building process are handled by trustworthy people and that you don't continue to struggle with this project and design.
We Are Here to Deliver the Best Services
Our team can be reached by phone or email so you can provide all relevant information and wait for a quote that will be calculated around the details. We are interested in your feedback regarding the dimensions of your property and examples of what you would prefer. If you are visiting our website, please fill out our contact form.
We will visit your space and assess it, as this is the ideal step to take to get the best result and work around what you need.
You will receive a quote and can alter or add elements to it as needed. Commercial pools can be customized in many different ways, including size and materials. You can also choose how much maintenance you want to perform based on the final type you install and the system needed for the pool to operate.
We will guide you and help you to understand each step, so feel free to ask all questions and schedule your assessment so our team can give you a free quote for your commercial pool build.
Below is our list of additional services: