New Pool Builds & Construction for Tequesta Residents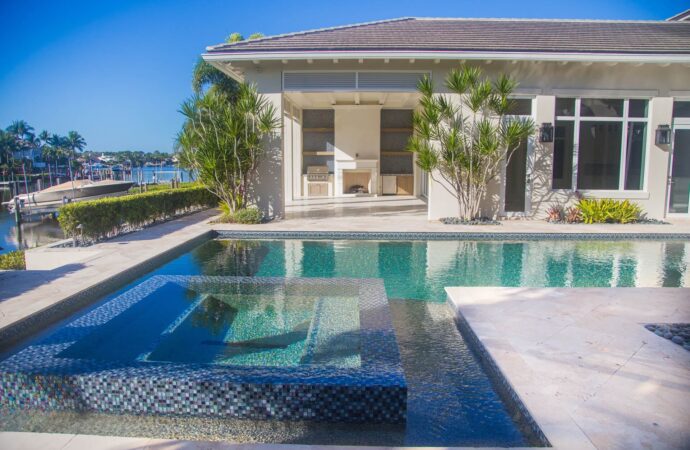 Many residents and property owners are concerned about how they can get the perfect pool for their properties in Tequesta, one of the most popular cities in Florida. A beautiful and long-lasting pool is a top priority for many of these people. We have been approached multiple times, and as a company with over three decades of experience, our team at SoFlo Pool and Spa Builders of Jupiter is more than honored and happy to be there if a new pool or renovation is what you need.
Our team is available to assist commercial property owners who want to build a pool to entertain their guests or clients. We can also assist with renovations and remodeling and bring our experience to residential projects.
We want you to be confident that we will find qualified and reliable professionals to help you with your project since our company is full of them, and they only focus on delivering the best results.
Our builders are skilled and qualified. They can also use the most cost-effective materials. This will allow you to save money and get the best possible start.
Our company has been in this industry for more than 30 years. Every step is important to us. We pay attention to every step so that the project runs smoothly before it even begins. We prefer that all steps are managed and completed during your involvement, unlike other professionals, and that you have the last word before we close the design and planning phases.
After discussing your preferences and needs, we will visit your property to assess it. Based on what we've seen, we will make recommendations to improve the value and workability of your property.
It is possible to feel anxious or rushed to complete the task. It may also take a lot of time, and this is why you feel impatient. However, always spend a few hours looking at all options. You should also consider the long-term and what you may like or dislike in the future.
First, we will provide the design to you. Then, we will ensure that you are satisfied with it. We will then give you an estimate of the cost of the project. In all our endeavors, we always keep your best interest in mind and work with you to develop every idea, so don't consider this a hassle when you have our team working with you on every part of the project.
What Pool Would Be The Best For Your Property?
It is impossible to choose a pool out of a catalog and expect to be able to work around it and get the exact same result since some variations will always be present, like the pool's size or maybe some small details. Everybody is different and has different tastes, and it's not the same to view different types of pools and then work from them.
We can work with over ten different types of pools, and all of them can be customized based on your needs and preferences. Allow us to be there for you and guide you in choosing the perfect type in this process.
Below is our list of additional services: