Indoor Pool Builds and Spa Construction for Jupiter Residents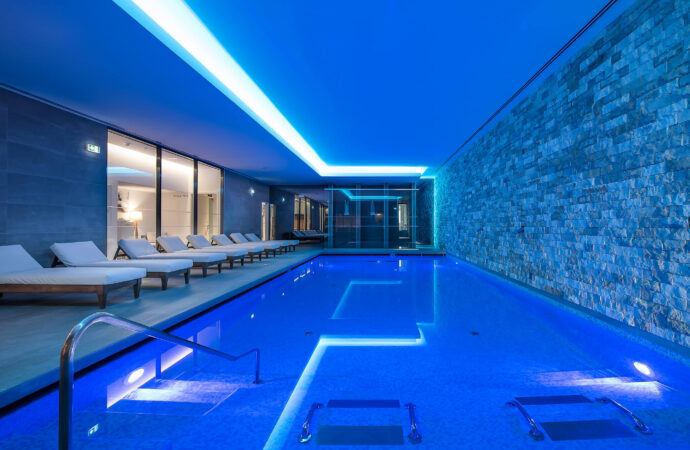 Building an indoor pool or spa on your property may seem daunting. However, it will become easier if you decide to work with the right people and focus on finding reliable professionals who can help you with the construction and every aspect and detail of the design. The right people will have experience in designing indoor pools for many years and give you the exact result you should be looking for. SoFlo Pool and Spa Builders of Jupiter can help you design and construct the perfect structure and provide all the benefits of indoor pools and spas for your commercial or residential property.
We are available to assist you in every step of the design process. We will do everything right to ensure that you have the best chance to enjoy the feature without causing any damage to your property's structure or sacrificing some of the space in the process.
Our pool builders have been building pools for more than three decades. And, contrary to other locals, they are just as familiar with indoor pools as they are with outdoor ones.
It can be challenging to design and build indoor pools or spas. However, our experience and how we're always working on improving allow us to bring better results and focus on stunning designs and indoor pools for anyone's space.
Some commercial properties might have multiple pools. You may see one in luxury hotels or maybe in some residential properties with different levels—like the regular extravagant buildings you can visit. This design is not easy, and it can be very time-consuming. You will be able to make a decision if you are clear about the property you want for this project and allow us to guide you in the design and how it should be done.
Indoor pools can be found in many other places. This is a great way to create a relaxing environment for guests, clients, and yourself. Many people are interested in indoor pools and how they can work in places where there isn't enough space. This could be down to personal preference. However, we will review the options and answer your questions if you are interested.
Many of our clients want an indoor pool and spa to enjoy year-round enjoyment without the heat and other problems that can come with having a pool outside. You can use the pool in all weather conditions, and it can be opened 24 hours a day without you having to sacrifice business when having clients or just focus on how much you can get from this feature.
You Will Have the Best Pool If You Get the Right Team
Indoor pools may be a good option for your design and property if you don't have enough outdoor space or are just trying to integrate a new feature. You could end up with an oversized or indoor pool that isn't right for your property whatsoever, so you need to choose right when you're trying to find professionals to help you with the task.
As we've already mentioned, indoor pools are more challenging than outdoor ones. If it's not done right, it will end up costing you more time and money. It can also cause property damage if you aren't careful with the installation and construction.
Our team discovered that it was crucial to know the location of the pool and determine if the space and area where you want to install it will work well for the entire design and the future of your building or house.
A pool shouldn't be built over a kitchen or bathroom. However, this rule is often ignored depending on how the entire structure of the building is involved in bringing the design to life. We have also seen pools built and placed in strange places. It is important to ensure that the property is well distributed and does not impact other areas in the long- and short-term.
If you're considering installing a pool at your home but not on commercial property, you need to find harmony in your space and ensure the indoor pool won't disrupt the rest. Although it may seem odd, this design can yield great results if the rest of your indoors is in line with the pool.
Indoor spas and pools that are near the outdoors or separate from other spaces work better. Indoor pools can offer many amenities, and you don't need to worry about the structure.
One of these pools can be built to surround the area completely and integrate it into your home's interiors. The first thing you need to do is decide if the pool should be indoors or outdoors. You can do this by looking at your project and deciding what you want.
Is An Indoor Pool & Spa Expensive in Comparison?
Some people may find the price prohibitive. They can cost as much as traditional outdoor pools, with prices ranging from $40.000 to $250.000, or even more due to the work involved in making sure every part of the pool brings benefits and no disadvantages. 
You will pay more for each square foot due to the amount of work needed to maintain the structure. It is also more expensive to organize and repair the interior in the short and long term. You should seriously consider whether this project is something you are willing to invest in and work only with qualified professionals for it.
There are many variables and considerations involved in a project. Finishes should be matched to the property and interior. These finishes provide non-slippery surfaces which are easy to clean and that last a long time.
Designing the space is essential as well, so you won't have to worry about the result in terms of if it is a good fit for your property or not.
SoFlo Pool and Spa Builders of Jupiter will ensure that you have everything you need and that your project is within your budget, so leave the process to us and get the most out of your money.
Below is our list of additional services: