Infinity Pool Builds and Spa Construction for Jupiter Residents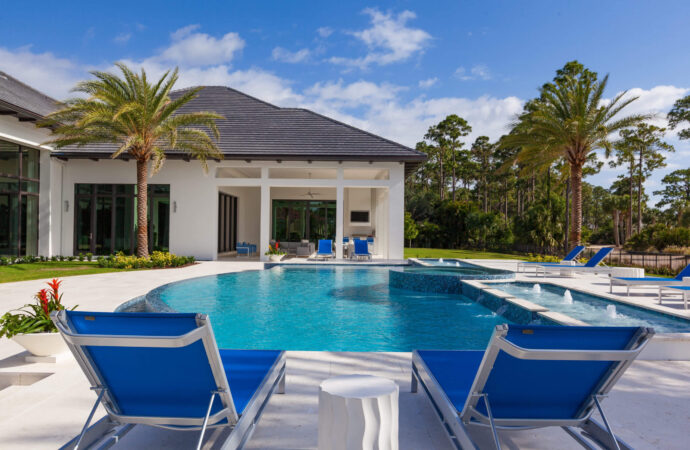 Infinity pools and spas are becoming more popular in Florida as more people get to see and experience them whenever they go to some commercial properties or residential places with one installed and shining stunningly in the middle of the property. They can be used for commercial or residential purposes as well as for private use, so if you are planning to bet on a pool, we do want you to know this is an option. More people are looking to build similar or identical designs for their homes or properties, so if you are part of the group, don't be ashamed to admit it. However, keep in mind that qualified professionals play a critical role in the outcome. SoFlo Pool and Spa Builders of Jupiter has experience working with infinity pools, and we would be delighted to be the ones helping with your design and construction so you can have the perfect pool in your place.
Since our inception, we have been adding new services, and among them, having infinity pools or general modern pools in our list has brought great wealth and businesses as more property owners want to have the unique and stunning design they offer.
We have built and designed infinity pools as part of our services for more than two decades. Because we keep improving our designs, we are confident in the result we can get, and rest assured, you will get the most out of your investment with our help.
Infinity pools are not new. Instead, they have been very popular over the past decade, as more hotels and commercial buildings have included them in their main features. Although they have changed in structure and construction, we know how to make them last and ensure you get a unique design, although the premise is quite simple or general around it.
When considering infinity pools, it is important to consider how difficult it will be to construct one.
We will give you information about infinity pools and spas, and we hope you take notes so you understand the complexity and what you can expect when you decide to take on this project for your own space:
This is a complex design, so don't expect to finish it in a matter of weeks (maybe 3 to 5). It will take time, depending on the size of your space and how you design it. You will need to consider whether this is something you can afford. Remember that creating the illusion of the infinite must be done well, and you don't want to waste time and resources.

Modern pools can be very expensive due to all the technology and systems that are required. Infinity pools will require the creation of an illusion, which makes planning the design a little more difficult. This could require preparation of the entire area as well as the addition of a layer if the surface doesn't allow the opportunity to create the effect.

Infinity pools can be minimalistic, but they can still be expensive. We do our best to keep costs low and to stay within your budget.

The pool will provide a calm and constant flow of water. Thus, determine if this is exactly what you want and if so, would you rather hear the sound or keep it as low as possible?
This option is often more affordable than you might think if you have the right people handling all the stages: design, pre-planning, preparations, and construction.
How to Get an Infinity Pool with Our Team's Help
These pools are extremely popular throughout the state and city, and they will continue to grow in terms of who requests them or not.
There will be many deals between contractors and professionals if you spend enough time searching for them. It is a fact. However, you don't need to worry about the cost of building a pool if you work with our team and allow us to take part in this project to deliver the best result.
Our team can add features or create effects that will allow you to place the pool in an elevated location. This will stop the pool from sinking with the water. The best part? Because we use mostly our own products and materials and also work on the design and construction of your project, you get a great deal. This guarantees you the lowest price, and you won't have to spend a fortune in the process.
You can find infinity pools on cliffs or buildings. You can achieve the same effect as a waterfall, and it also saves you time and money. But this is only one aspect. To create a pool that is beautiful and artistic, you must use the right materials and design. You don't have to be satisfied with just one structure or surface to achieve a stunning and clean result, and if you live in a flat space, we can still make it possible.
To get your design today and have our team build your pool, just contact us via email or phone, or fill out our contact form so we can get the information we need, and you can have your assessment scheduled that will come with a free quote for your project.
How Long Does It Take To Build Infinity Pools & Spas?
The process can take between 9 and 14 weeks. These pools are complex and will require patience if you decide to go for the project; we don't want you to rush the process if there are some areas that are difficult to work with and remember that the size of the pool plays a crucial role.
While our team will make every effort to cut down the time it takes to build the pool, we still need to know all about your property so that we can work within the available space.
Allow us to assess your space, consider all elements and variables, and finally, bring an estimate not only in the cost of the pool but also the timeframe.
Below is our list of additional services: