Natural Pool Build and Spa Construction for Jupiter Residents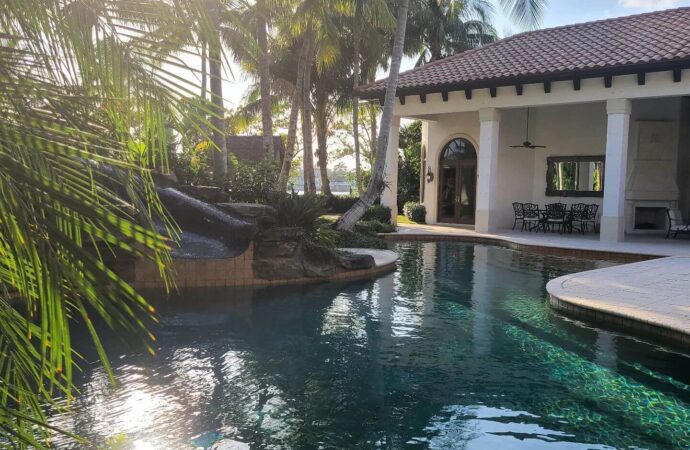 Since we started serving the city and nearby areas, we have been building and, of course, designing natural pools and spas which have become very popular because they are cost-effective, eco-friendly, and affordable for both residential and commercial property owners when the right experts and professionals are involved in the process. They also look natural—as expected—and can be used by disabled people. They allow you to be more flexible in how you use them and whom you invite because they have a better design that connects with the space's surface or deck. However, if you want a proper design and result, take care when hiring professionals for the project.
If you want to add this feature to your commercial or residential property, you will need to hire natural pool builders who know what they are doing and don't offer the service just as an extra. SoFlo Pool and Spa Builders of Jupiter is a company that has been creating pools for more than three decades. Natural pools are one of our favorites, and we are always taking on new projects when it is all about them.
We love the natural option and encourage property owners who have enough space to create unique designs that add more to the landscape and equation, even when it can be a bit more expensive in the beginning.
Florida is home to one of the few natural pools and spas in the country. This is due to the beautiful weather and the many benefits of having them in your backyard. If it is built on a commercial property, you can enjoy it year-round and offer different amenities to your clients and guests.
What makes a natural swimming pool unique? Natural pools' design and nature inclusion elements blend seamlessly with outdoor spaces. It is possible to create an environment that attracts people due to the addition of more plants, how which preserves nature and makes it easier for you to maintain.
Add the details or features of how the pool can be connected to the deck or other surface. It will be comparable to a zero-entry pool that doesn't need stairs and enables disabled people to enjoy it without difficulty. You will see that there are many options for zero-entry pool designs and that natural pools can be more connected to them than you thought.
You can also add features and amenities to complete the look. Your natural design will be unique and perfect, and for it, our team has the expertise to guarantee it, so you get the most out of your time and investment. We will bring out the best in you without you having difficulty choosing from the various options.
Natural swimming pools can be more complex than they appear. You can make your pool appear like it's part of a forest, river, or another natural setting. This can be expensive and requires additional features, and you will have to work with the right systems; hence, why we mention it can be more complex than you thought.
Our team will help you select the best features, additions, and amenities, and we will make sure your style is durable, looks great in your outdoor space, and never goes out of fashion.
Natural pools are designed to cut down on the time and money that you spend. Even though the pool might offer additional elements or be a bit more expensive during the construction, you will still be able to control your spending in the long run and get some ROI from the design and project.
We Are Here to Help You Through the Process
It is different to work in a pool that isn't meant to follow the natural premise. Even if it weren't, we would still be there to help you through every step, so you don't struggle with the design and construction of your pool. This is part of our service. We want you to be able to see the water in all its details, and you get the desired result without having regrets later.
A pump and system will filter and clean the pool water, so by just mentioning this; you know you will need some assistance with your pool design. 
The pool water will not contain any chemicals. This is a very popular option in Florida because it allows everyone to enjoy the pool without worrying about chemicals and chlorine. This option can also lower long-term costs, but you need to do it right if your goal is to achieve a clean and affordable pool.
Chemicals can be very expensive and dangerous if they are used in an unusual way. If natural pools and spas have been properly designed and planned, they can be safe, and you can forget about the regular use of chlorine for your water.
The pool should be enjoyable and safe for everyone. You can enjoy the tranquil atmosphere and other amenities if you allow us to design your pool and work on the construction to ensure every piece is in place.
Natural pools don't need to be chemically treated. They can be filtered multiple times with the best living system. This will ensure that water is clean and free from bacteria.
We are here to take care of each part of the design and project so you get to enjoy the pool and have it installed on any type of property.
Is It Expensive to Build a Natural Pool?
Essentially, yes, it can be a bit more expensive than you thought. Liner is applied over the pool to make it easy to install on any surface, and the systems involved make it more costly than most people believe. However, although it can be costly, it is well worth the investment.
Prices will vary depending on the space and size of the final product. If you add recreational or other amenities to your project, it will increase in price, so it is about customization and what you want or not in the end.
On average, a pool costs more than $48.000. This price can be reduced if you have a small pool or don't plan to add any amenities, but it can also increase easily with the wrong people that don't consider your budget.
We are here to serve you in every possible way, and rest assured we will keep your budget and best interests in mind so you can get the perfect natural pool for your space.
Below is our list of additional services: