New Pool Builds & Construction for North Palm Beach Residents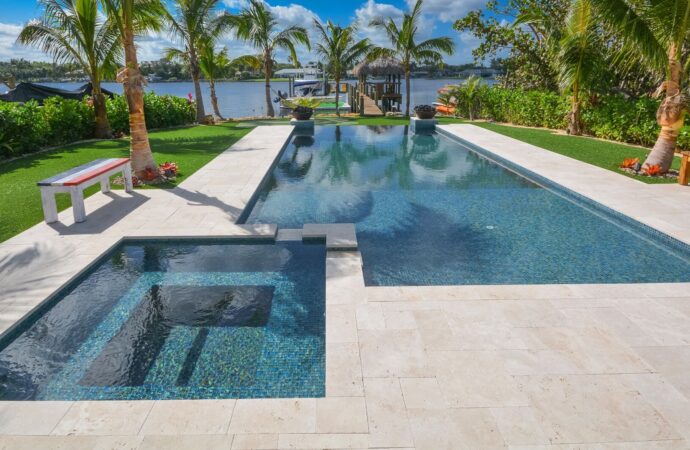 SoFlo Pool and Spa Builders of Jupiter will help you build a pool on your commercial or residential property as requested and based on the project you have in your hands. We'll make sure that you are completely satisfied with the end result and offer a guarantee that you won't have to do it again anytime soon. We will work within your budget without charging you any extra fees or charges that are not necessary or that other companies tend to hide. 
You can access over 15 services in North Palm Beach, and rest assured that with our assistance, you won't have to struggle or feel like this is a hassle. Our team will make sure you have everything you need and can enjoy the experience without any issues.
It is not an easy task to build a pool. Even if you have professional help, it can take a while. You should be satisfied with the design before you begin construction and polish all the details involved with the design. Make sure you go through all steps, so you don't get frustrated.
If there is something that we stand for in this process and want you to know would be: 
Professionals shouldn't make decisions for you. This project is all about you and what you want from your property and the pool you want to be installed. You should seek out professionals for them to make suggestions and help you decide what is possible on your property. You and your choices should be the main focus of this process. We are here to help you, not force or offer advice that needs to be always received.

Before any other work can begin, you must be satisfied with the design. Before you make a decision, take time to evaluate all options and allow us to bring different alternatives if you aren't confident about an option or two.
Your responsibilities don't have to be forgotten. Our team will ensure that everything runs smoothly. We will respect your wishes and follow your instructions, and we will make suggestions and help you with the work.
We are here to assist you in any way we can, but you must make the final decision. If your budget is not within your reach or you don't approve of it, we will do our best to bring a wide variety of solutions and even offer to finance if possible.
We Are Serving Right Now!
We are able to build pools on your property, as well as provide remodeling and renovation services.
We understand how difficult it can be to find qualified and competent professionals to visit your home and assess your pool, but luckily for you, our team is right here waiting to be called or emailed so we can finally deliver our services and help you with the project in your hands.
We are a company that does its best to deliver outstanding results, and rest assured your pool and project will be in the best hands as we work with you on every step.
Below is our list of additional services: