Custom Pool Builds and Spa Construction for Jupiter Residents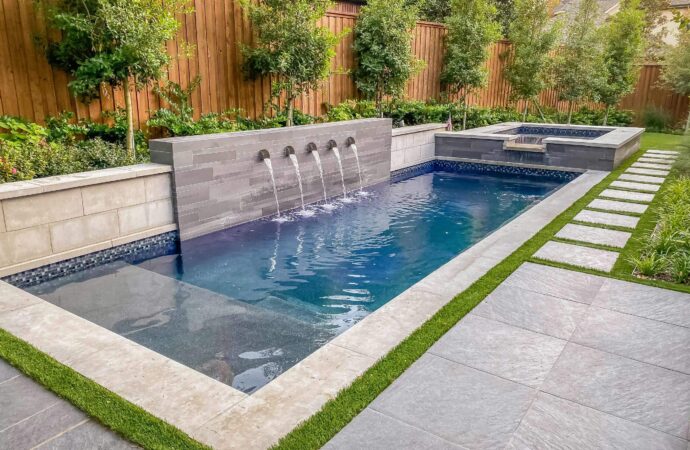 Some people don't like the designs of contractors and builders for swimming pools, nor the usual designs and types they can find in a catalog and copy and paste just like other people have done it. Others may prefer something more unique than the ones everyone else recommends. It is perfectly normal for pool owners to want a unique design that inspires them or for future owners to have a different style that represents the property where the pool will be installed. If you feel identify with all this, you can find the perfect pool for your space by relying on custom pools and spa services.
Any feature you want to add to your pool can be done, and you can fit a specific idea into a design. However, you need to find competent and qualified experts who are able to help you through this difficult step. SoFlo Pool and Spa Builders of Jupiter experts can help you with all aspects of your pool construction and custom design.
We can create custom spas and pools for commercial or residential properties. Our experts can help you create a pool that is exactly what you want, and they will also make sure it lasts and doesn't need to be repaired every so often.
You can choose the materials and details you want for your pool with custom design and work. This may seem like a lot to some property owners. If you're looking for something unique and you don't want to get bored of it, it is worth the effort whatsoever, so allow us to be the support and help you need in all this.
It is important to consider the design and foundations that you choose. Pay attention to the material, corners, edges, and surfaces. We will show you examples to help you choose the features and styles that you like and assist you throughout the process.
Then, we will discuss the different colors and materials that are available so you can make your choice, from gunite, fiberglass, vinyl, general concrete, and many other options in the market. There are many options depending on how you view this feature.
We can help you plan and design. We want it to be easy for you, which is why we're always bringing a new option to the table and allowing you to make simple decisions based on the information with compile for you. 
We want it to be simple and straightforward. This is why we encourage you to participate in every step. Our team will assist you in making informed decisions, gathering all details, and fulfilling all your needs. It is not necessary to ignore the common elements or go back to the design.
With custom pool construction, you can get exactly what your heart desires. We can help you realize your dreams. When assisting you, we will be mindful of the most important considerations: durability, longevity, and aesthetics, so you can have the trinity that every pool owner should aim for.
We Are Here to Design and Build
Most people are familiar with the basic design and style of pools. It is possible to add many details to your project or to the regular designs if you decide to go for the custom option. We are here to help you get the most out of your project and keep you focused on the essential parts.
As long as your pool is of the right type, design and size, you have the freedom to add whatever you like.
Pool design should be flexible enough to accommodate common features but still create an unforgettable experience for all who use it. The pool builders will help you make this happen as well, which means we take care of everything as our designing team will handle the obvious step, while the construction team will assist you in deciding the best location and how to place the pool or work in its construction.
Take your time when designing a custom project. Make sure everything is in order and allow us to make recommendations.
SoFlo Pool and Spa Builders of Jupiter can work with you to design a pool and spa that will be both beautiful and practical. We also ensure it is constructed correctly and with the highest quality materials.
While planning and designing are important, it is also crucial to plan around construction. This will ensure that the pool lasts as long as you want.
Allow Us to Make Your Custom Design Real
To plan and design the space, we will need to evaluate your property. While some property owners might ask for an estimate, it is preferable to view the space and provide you with the details afterward, as it is important to know the current condition of the property and take note of all considerations.
We understand that estimates are not always easy to provide and might not be able to give one until a visit has been agreed upon. To provide an accurate quote and final price whatsoever, we will need to learn a lot more about you. This method of not visiting your property can be useful if you only need a quick quote.
There are many details to be considered. It is impossible to determine if additional work is necessary due to specific problems or details on your property unless with visit the space, so bear with us if we are a bit too annoying with the questions and information we want to get from you. Although we are happy to give you an estimate, it is better to meet with our team and have an assessment of your space.
Get in touch with us to discuss your custom spa and pool. We will bring the best design, durability, long-lasting features, and style to your commercial or residential space. We will work with you to make your pool a pleasure. This project and our service are primarily about you and making it happy, so allow us to be the professionals you've been looking for.
Below is our list of additional services: